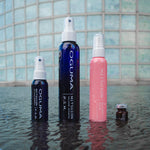 Face mists have gone from being a summer-time makeup essential to a product that every brand is offering. You might think it's just water in a bottle, is it really worth the price tag? Their popularity is an indicator of why you should consider adding a face mist to your daily routine.
Let us give you a rundown of why facial sprays have become a must-have product.
What Are Face Mists?
Face mists are not just fancy water. They are a multi-tasking product that can change your skincare and makeup routine. There are thousands of facial sprays on the market, and each prioritizes a different element. Face mists that are focused on skincare might also set your makeup, but that won't be their main priority. If you're blessed with soft skin and want to improve the longevity of your makeup, opt for a facial spray that preps your skin and sets your makeup. The key is to figure out what you want your face mist to do for you. 
The reality is that face mists are one of the most versatile products that you can add to your routine. It helps maintain your makeup throughout the day, and it is raved about for its skincare benefits. They are becoming a staple in our daily routines, and you are likely to find several on the shelf of any skincare lover. 
Who Are They For?
Face mists are the perfect way to get the most out of the rest of your skincare products, so they are great for everyone. A facial spray is a perfect product to keep on your desk or in your handbag if you suffer from skin irritation and redness. Choose a face mist that is fragrance-free and apply it throughout the day to cool down and soothe your skin. Keep an eye out of face mists that include hyaluronic acid to get your skin maximum moisture. You will often see face mists that have rosewater as one of their primary ingredients, and it is well-known for its anti-inflammatory properties. 
Why Should You Use Them?
By adding a facial spray at the end of your skincare application, you can lock in the moisturising properties of your other products and increase their lifespan. You can spray it several times throughout the day. It's your new best-friend to instantly touch-up your skin. Who doesn't want plump and glowing looking skin?
If your skin starts to feel dull later in the day, then a face mist is an easy way to rejuvenate your skin. Look for products that market themselves as a hydrating face mist, and that has more of a focus on skincare than makeup setting. Ingredients to keep an eye out for include squalene and coconut oil. Along with giving your skin a pick-me-up, face mists are so lightweight that they won't smudge or mess up your makeup if you apply it later in the day. 
What Can They Do?
More brands are focusing on adding skincare products into their face mists to make it an all-in-one product. If you suffer from dry skin, then a facial spray is a must, although every skin type can benefit from using one. The main focus of the product is to moisturise and hydrate your skin, giving it a pick-me-up between your morning and nighttime skincare routines. You can also find face mists that have an SPF included for added skin protection. These facial sprays are perfect for giving you an extra touch-up of SPF during the day, especially during the summer months. 
One ingredient to try and stay away from is alcohol, as this can dry out your skin and offset any benefits that you might be getting from the face mist. If your skin is oily, then stay away from face mists that contain silicones and oils as this can clog up your pores. Never opt for a face mist that is just water, as this can dehydrate your skin in the long run
When To Use 
You can apply a facial spray after finishing up your skincare routine or after applying your makeup. You don't need to worry about a face mist smudging your makeup or giving you a greasy looking glow to your skin. Face mists first appeared in the beauty industry as a makeup setting product that increases the lifespan of your products to get you through the day without your makeup creasing. Most of the facial sprays that you'll find on the market today are designed to prep your skin and set your makeup. 
Our skin is the canvas that we apply foundation on to. We all know how our makeup looks to stick to our imperfections. A face mist gives you a smoother canvas to work with, and they can even make it easier to blend your foundation into your skin for a natural look. They are also the best product for helping revive your makeup in your evening without having to reapply your entire face. Add a few sprays to your face, touch-up your concealer and add an extra coat of lipstick. Easy as that!
How To Use 
Face mists are small enough that you can easily pack one into your handbag and take it on the go. Give your face mist a shake and hold the bottle about 15cm away from your face. Make sure to close your mouth and eyes, and don't inhale the product. You'll need about five squirts of the spray across your face, which should instantly cool you down. If there is any excess product, you can blot it off with a wipe. You can keep your face mist with you and apply it later in the day if you want to give your skin and makeup a hydrating boost. This tip is a must for colder months when your skin can become drier throughout the day due to low temperatures.